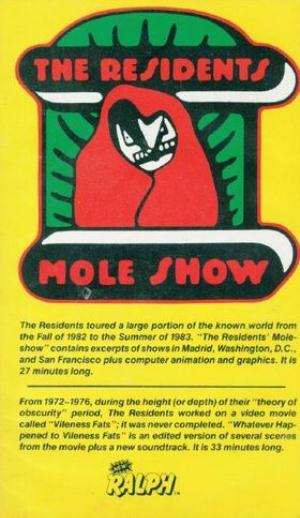 Géneros/Categorías:
Avant-Garde, Electronic
País
: USA
Información
:
Residents
Q
uizás una de las piezas cruciales en la carrera de
The Residents
sea la parte visual, la cual comprende sus espectáculos en vivo y su videografía oficial. Bajo esta conjetura no habría mejor manera de acercarse a ellos que mediante uno de sus shows más emblemáticos y muy representativo de su estilo:
The Mole Show
. El montaje escenográfico corresponde con la música en estudio de los álbums
Mark Of The Mole
y
The Tunes Of Two Cities
, ambos materiales extraordinarios de vanguardia. Junto con
Intermission
y
The Big Bubble
, se constituye lo que posiblemente es la trilogía más ambiciosa de toda su carrera.
El concierto parte del guión que se escribió para estos álbums conceptuales. Trata acerca de dos sociedades imaginarias opuestas: The Moles (topos) y The Chubs (gordos). Lo que sucede es que los primeros son desplazados de sus tierras dada una catástrofe climática que destruye sus casas. Una gran tormenta los obliga a marcharse lejos y buscar hospedaje en otro lado. Así llegan a la aldea de los chubs, quienes en principio les dan asilo y empleo. Pero en poco tiempo los chubs se vuelven intolerantes y se hartan de los moles, lo que da inicio a una confrontación cultural.
En el escenario, vemos materiales teatrales para representar a los personajes de ambas culturas. Detrás de un telón están The Residents usando disfraces de Eyeheads, y solo en un momento específico Randy saldrá a la vista del público (con su disfraz, claro).
La edición y post-producción del concierto intercala las imágenes en vivo con algunas ilustraciones muy bizarras de personajes ficticios bastente raros. Básicamente son dibujos caricaturescos que van cambiando de manera casi aleatoria e impredecible.
Y todo sucede mientras la banda genera el soundtrack obligado y retorcido. La asombrosa participación de sintetizadores, con todos sus trucos enfermizos constituyen la amalgama de sonido de otredad que acompaña la narrativa. Algunos riffs de guitarra o melodías suaves de teclado pegadizas también contribuyen a generar un espectáculo por demás disfrutable. Las voces van con falseto para representar los diferentes personajes, incluso el recurso vocal cambia de acuerdo a la circunstancia por la que atraviesa la historia. Prácticamente lo mejor de
Mark Of The Mole
y
The Tunes Of Two Cities
es llevado al escenario de manera magistral.
Realmente lo único malo de este producto audiovisual es su calidad precaria de sonido y de audio. Es decir, fue producido como VHS y filmado con el equipo de aquella época. De allí en fuera esto representa un goce garantizado para cualquiera que se autonombre seguidor de esta gente.
-->Link en comentarios